ORLANDO, FLORIDA
A STAR BURSTS IN "THE CITY BEAUTIFUL" AS A RIBBON FALLS ON THE NEW CHURCH OF SCIENTOLOGY
MAY 12, 2018
Orlando, the most visited city in the country, sees a dream come true when the new Church of Scientology Orlando opens her doors to all.
A "Magic Kingdom" of a metropolitan region where enchantment is routine, the surreal is real and stars are wished upon, the "Theme Park Capital of the World" is entirely unique. Home to wonderlands such as Walt Disney World, SeaWorld Orlando, Universal Studios and the Wizarding World of Harry Potter among many more, Orlando's massive playground draws fun-loving, thrill-seeking tourists of all ages from across the globe.
While just minutes from Orlando's theme park avenue, International Drive, you'll see the newest "shining star," already twinkling in the Church's growing interstellar galaxy. The expansive facility sits on nearly four acres in the center of Florida's largest inland city, along the shores of Lake Ellenor. In this charmed place, where laughter and imagination are timeless, a crowd of over 2,000 Scientologists and friends converged under the Central Florida midday sun on Saturday, May 12th, to celebrate the grand opening of a new Church of Scientology.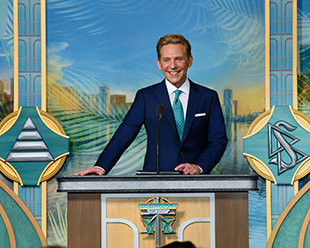 In commemorating the special occasion, Mr. David Miscavige, the ecclesiastical leader of the Scientology religion, reflected: "Beyond all else for which your city is renowned, there is still another way to spin this tale and it follows from a different brand of magic. Because with the fall of that inaugural ribbon, a new Church of Scientology arises and with it a kingdom of spiritual freedom where every citizen reigns."
On this spring afternoon, the orchestra struck an upbeat tempo—a soundtrack of samples from the area's theme park menu melded into modern hip-hop. It was a refrain in harmony with the dignitaries on hand, who espoused the legacy of the Church in Orlando and urged parishioners to bring the "real magic" to their communities.
A checkerboard of cultures exists in the formidable shadow of the Mouse, presenting a cornucopia of questions and issues—in particular, relating to human rights and drug abuse among residents and visitors alike. The new Church, with social betterment and humanitarian programs spanning the gamut of social issues, stands ready to supply the answers.
Illicit drug use is a primary concern in the Greater Orlando area, as it is in every community, large or small in Florida, where 85% of the nation's oxycodone pills are made. Through the Church-supported "Truth About Drugs" international education initiative, Scientologists have been on the front lines enlightening over a half-million youth and adults in Orlando alone, on the dangers of drug abuse.
Beyond the medicine cabinets and roller coasters, however, lie two other communities—one nearly surrounded by miles and miles of cattle and farm fields—the other hidden in plain sight amidst the daily bustle of millions of tourists. Teeming with migrant workers, troubled teens and foster kids, Central Florida ranks third among the country's worst human labor and sex trafficking areas. To prevent the violation of these rights, the Church sponsors the United for Human Rights program, the largest non-governmental information and education campaign of its kind. The result has been an impressive uplifting of numerous groups and individuals inspired by the Church to stay the fight against such unseen evils.
Embodying their well-known slogan "Something Can Be Done About It," Florida's famous Scientology Volunteer Ministers are a familiar sight around Central Florida in their signature yellow T-shirts, especially during the summer hurricane season. They have been helping to repair hurricane swept homes and ruined lives. Volunteer Ministers are known worldwide for their response at the World Trade Center 9/11 attack, to floods, earthquakes and all types of other natural and manmade disasters.
Further Church-sponsored campaigns include the Citizens Commission on Human Rights, a watchdog group that investigates and exposes psychiatric violations of human rights and is renowned in Florida for exposing abuse of the Baker Act—and The Way to Happiness, a commonsense guide, providing a non-religious moral compass for all to live by.
These programs reflect the diligence and unwavering commitment by Orlando Scientologists to help build a more educated, compassionate and vibrant city. And they have inspired community partnerships across Greater Orlando.
On hand to celebrate this special day were leaders and allies from that Greater Orlando community, many of whom rose to welcome the Church, including: Ms. Susan Valdes of the Florida School Boards Association; Mr. Edward Herman, At-Risk Youth Educator, City of Orlando; Mr. Justin Drach, Lieutenant of the US Armed Forces; and Pastor Joel Lewis of Out of Our Heart Ministries.
Ms. Valdes welcomed the Church and its support of Youth for Human Rights that helps keep alive the flame of liberty in Florida. "Families constantly come up to me and say how the concepts and information provided by Youth for Human Rights are the most important education out there. You bring your materials, and you educate people on their human rights—the right to education, the right to responsibility and the right to life… Through your human rights message, we've now educated more than 25,000 Floridian families."
Mr. Drach told those present about defending rights with CCHR on behalf of the innocent: "As a naval aviator, I've flown aircraft to defend our constitution and our liberties. It was, and still is, my duty to serve those denied their freedom. There's actually a saying in the Navy that goes: 'Always Defending, Always on Watch,' and that's a motto I see fulfilled by you. Because there's only one group of people who are the go-to source and authority on the Baker Act in this state—and that's CCHR and the Church of Scientology!"
Mr. Herman stated Scientology Founder L. Ron Hubbard's The Way to Happiness booklet can wake up a struggling generation: "Now, to be clear, my classrooms are an incubator for card-carrying gang members. But then, once I started in, precept by precept, I began to see the connection with The Way to Happiness philosophy. Students who would usually sit silent were suddenly speaking up. Others who wouldn't look you in the eye were now discussing their personal lives. And I'll never forget one young boy who, years later, sought me out to tell me: 'You know those 21 precepts—they changed my life.'"
And finally, hitting a chord that summarized the spirit and purpose of the new Church, Pastor Lewis declared: "If you ask me, the Volunteer Ministers and the Church of Scientology inspire new hope. And here before us stands what I like to call a 'spiritual library' to inspire that hope for all people. Now, there is no longer any excuse for anyone to be unlearned. Because Mr. Hubbard pulled together all this wisdom and put it in books for every man. So, with this new Ideal Org, you are granting individuals power of choice and the right to aspire to greater freedom."
---
The first feature that visitors and parishioners view when approaching the new four-story Church of Scientology Orlando is its mid-century façade. Upon entering, visitors step into a bright and modern space taking its cues from the sundrenched Florida surroundings. Light teal, sand and gray tones bring a serene sensibility to the Public Information Center where an introduction to Dianetics and Scientology is presented. Its displays, containing more than 500 films in 17 languages, share the beliefs and practices of the Scientology religion and the life and legacy of Founder L. Ron Hubbard.
The Information Center also details the many humanitarian initiatives that Scientology supports. They include a worldwide human rights education campaign; far-reaching drug education, prevention and rehabilitation programs; a global network of literacy and learning centers; and the Scientology Volunteer Ministers corps, which has become the world's largest independent relief force.
Orlando's new Chapel provides for Scientology congregational gatherings that include Sunday Services, Weddings and Naming Ceremonies. It will also host community-wide events such as banquets, seminars and workshops, open to members of all denominations.
The elegant Lakes Café features both indoor and al fresco seating, offering a meeting place for those attending events, as well as for parishioners during breaks in their Scientology services.
The new Church allows for the delivery of all Introductory Services. By way of example, afternoon, evening and weekend Dianetics and Scientology seminars present visitors with an overview of fundamental principles and their application for living, as well as an array of Scientology Life Improvement Courses to help better any aspect of their lives.
The Orlando Church further includes dozens of specially appointed rooms providing the ideal setting for Scientology auditing (spiritual counseling). Multiple course rooms are also dedicated to training auditors (spiritual counselors), for Scientologists studying the technology of auditing, to help others attain spiritual freedom.              
---
The opening of the new Church of Scientology Orlando comes during a period of tremendous expansion for the religion with over 65 new Churches of Scientology from Los Angeles to Tampa, London to Milan, Tel Aviv to Tokyo and Kaohsiung to Bogotá, including 28 in the United States alone.
In just the past year, openings of new Churches of Scientology have taken place in San Fernando Valley, California; Miami, Florida; Copenhagen, Denmark; Dublin, Ireland; Birmingham, England; Amsterdam, Netherlands; Johannesburg North, South Africa; Salt Lake City, Utah; Silicon Valley, California and Perth, Australia.
More Church openings are planned in 2018 for global cities in Europe, North America and Africa.