DUBLIN, IRELAND
SCIENTOLOGY CENTRE FOR INTERACTION AND PARTNERSHIP OPENS IN SOUTH DUBLIN
OCTOBER 14, 2017
A new Church of Scientology and Community Centre on a multi-acre estate opens its doors to the communities of Dublin.
Ireland has long been a land of vistas that evoke ancient beauty and eternal stories that, retold again and again, are said to keep the Earth spinning on its axis. That tradition cuts through today's world with beauty, passion and pride that make the Emerald Isle a place forever calling one's return.
So it was, on a rich October afternoon, 12 months to the day since inaugurating a National Office in Dublin's iconic Merrion Square, the Church of Scientology cut the ribbon on a new Church and Community Centre. The facility is dedicated to offering Scientology-sponsored programmes and providing a central hub for local activities and events for the strengthening of communities across Dublin and all of Ireland.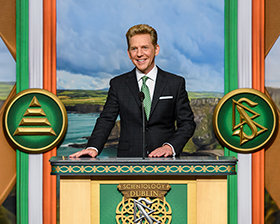 "Today we make good on a pledge to honour a land our Founder, L. Ron Hubbard, so loved, and a people he described as wonderfully warm, even if the weather is occasionally not," Mr. David Miscavige, ecclesiastical leader of the Scientology religion, told the assembled crowd. "And if that doesn't say it, then allow me to quote from your own Mr. Yeats: 'Many times Man lives and dies between his two eternities… And ancient Ireland knew it all.'"
The gifts of that knowledge, Mr. Miscavige noted, were given to the world with a graciousness that is reflected in the spirit of cooperation and community service that the new Centre represents.
"So to Ireland eternal, Ireland transcendent: You kept literature alive for 500 years. You built America, and possibly even discovered it. You taught Mankind equality and how to live with dignity in the absence thereof. And, you taught us there is no commodity so precious as beauty, for which you stand. All of which is why we're proud to stand by you, as we open this new Church of Scientology and Community Centre of Dublin."
Indeed, the city holds a special place in the history of Scientology for, in 1956, Scientology Founder L. Ron Hubbard lived in Dublin and worked in Merrion Square, where he developed the Personal Efficiency Course, a programme designed to enable anyone to operate more effectively in life.
The National Affairs Office in Merrion Square, opened October 15, 2016, rekindled that tradition and, in turn, offered Scientology-sponsored programmes across all of Ireland. Over the past 12 months the Office has reached hundreds of thousands of students, teachers and everyday citizens with civic initiatives spanning drug prevention, literacy, human rights awareness and youth activities. National Office staff have further served to host University interfaith classes, awards galas celebrating Anti-Drug champions and open house events to promote the Universal Declaration of Human Rights.
Carrying forward in that very same spirit, the new Church of Scientology and Community Centre, on a 6.8-acre campus in the heart of South Dublin, is exclusively designed to serve as a home to the entire community and a meeting ground of cooperative effort. Inside, the 1,050-seat state-of-the-art auditorium is fully equipped to host any number of local events: from charity events, concerts, literary nights and neighbourhood gatherings; to education seminars, conferences and civic functions. The centre's sports pitch is equally well equipped and can accommodate Gaelic football, hurling, rugby and football. In fact, the facilities, including meetings rooms and a full service café, are available for use by community and charity organisations including local clubs, schools and youth organisations.
Emphasizing the opportunities created by the transformation of an abandoned site into a revitalized centre for the community, local and city dignitaries honoured the fellowship and spirit of the occasion. They included: Ms. Nicola Keating, Tallaght Anti-Drug Activist; Ms. Amina Moustafa Keogh, Sports Against Racism Programme Director; and Mr. Philip Cummings, Award-Winning Poet and Translator.
With 20 years of frontline experience tackling the problems of addiction and drug abuse, Ms. Keating sees the Church-sponsored Truth About Drugs campaign as a vital necessity: "Ireland is a beautiful country," she said. "But unfortunately we are suffering from a drug epidemic. Fifty-four percent of our population are using substances abusively and those addicted wander the streets and gutters of Dublin as forgotten souls. But, your Drug-Free World programme is straight-talking and speaks to everyone. And I have already seen it grow in use—both here in Dublin and right down to Cork. You've reached out your hand to addicts, the homeless, at-risk youth, immigrant families and Irish people of every background. In fact, nothing more need be said, when you've already given over 500,000 people of Ireland the Truth About Drugs."
Ms. Keogh further described a nationwide human rights movement generated in the past 12 months under the banner of United for Human Rights: "Each boy and girl in our 'Count Us In' education programme receives their own copy of your human rights booklets, in combination with our Anti-Bullying Workshop. In fact, forty-eight of our volunteers are using the programme, from Cork to Limerick, and Galway to Dublin. With educator kits under their arms, they are delivering seminars and lectures and leaving seeds of human rights behind, wherever they go. And with nearly 3,000 students graduating the programme, we're building a burgeoning human rights army."
Philip Cummings, Irish author, poet and linguist, spoke of the Church's determination to bring L. Ron Hubbard's philosophies and insights to Ireland—translated into its native language—and how that has already shown respect for the nation's culture and history: "For the Irish language itself, by your dedication to this project and the opportunity you provided for a whole team of translators to work on material that will actually be read, you are doing so very much, and in practical ways, to promote and encourage the use of Irish.
"Pádraig Pearse, one of our foremost political leaders and poets, coined this phrase: Tír gan teanga, tír gan anam. 'A country without a language, is a country without a soul.' So, though you may not be aware of it, and while that may not have been your only intention, what you have achieved today is, actually and practically, helping to keep alive the soul of Ireland."
---
The new Church and Community Centre is open to all visitors and provides an introduction to Dianetics and Scientology, beginning with the Public Information Centre. Its displays, containing more than 500 films, present the beliefs and practices of the Scientology religion and the life and legacy of Founder L. Ron Hubbard.
The Information Centre also includes exhibits on the many Scientology-sponsored humanitarian initiatives and community outreach programmes, including: a global network of literacy and learning centres; a worldwide drug education, prevention and rehabilitation programme; a far-reaching human rights initiative; and the Scientology Volunteer Minister programme.
In addition to congregational services, weddings and other religious ceremonies, the Chapel can also be used by charities and community groups for a wide range of gatherings, such as conferences and workshops. The facility further includes multiple seminar rooms and classrooms, and an entire wing dedicated to Scientology auditing (spiritual counselling).
---
The opening of the new Church and Community Centre comes during a period of rapid expansion for the religion with 60 new Churches of Scientology from Los Angeles to Tampa, London to Milan, Johannesburg to Tokyo and Tel Aviv to Kaohsiung. Over the past decade, those openings have driven worldwide expansion for the religion to a rate surpassing the previous 50 years combined.
In 2017, openings of new Churches of Scientology have taken place in Auckland, New Zealand; the San Fernando Valley, California; Miami, Florida; and Copenhagen, Denmark.
More Church openings are planned in the next 12 months for cultural epicentres in Europe, Latin America, North America and Africa.