LOS ANGELES, CALIFORNIA
AN LRH DREAM REALISED: THE IDEAL PACIFICA BRIDGE
MARCH 8, 2014
Three inaugural ribbons falling in unison:
One for the grand opening of the Ideal American Saint Hill Organisation...
Another for the Ideal Advanced Organisation of Los Angeles...
Another still to signify the completion of the Ideal Pacifica Bridge—each Org a Model Ideal Org unto itself...
And all on a street called L. Ron Hubbard Way.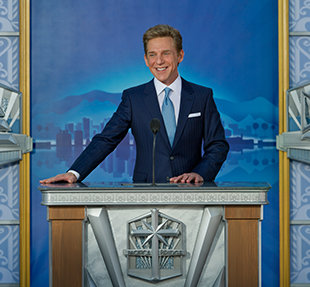 More than 6,000 Scientologists assembled to witness the historic gathering.
To underscore the significance of the occasion, dedication ceremonies were led by Chairman of the Board Religious Technology Center, Mr. David Miscavige. Mr. Miscavige addressed Scientologists in attendance stating: "Today, we fulfil L. Ron Hubbard's vision of the Ideal Pacifica Bridge for all Scientologists of Los Angeles and, indeed, across America. For here stand the physical pillars of a Bridge now accessible to all in our Golden Age: a Bridge that embodies the ascent to total spiritual freedom, a Bridge that spans not only a boulevard—but extends to eternity itself."
The Ideal Pacifica Bridge is unique in the world of Scientology. In very literal terms, it comprises Organisations paralleling the religion's Bridge to Total Freedom. In that respect, and from this single location, one can ascend from introductory services to increasingly higher realms of spiritual awareness.
The Pacifica Bridge begins at the intersection of famed Sunset Boulevard and L. Ron Hubbard Way with our Ideal Church of Scientology Los Angeles. There, visitors are welcomed and provided an introduction to Scientology. Whereupon, they may begin their journey up the Bridge to the State of Clear.
That welcome extends to a new Ideal Scientology Information Centre on Hollywood Boulevard's Walk of Fame. As LA is home to the greatest concentration of Scientologists on Earth, this centre now provides the definitive introduction to the religion. It features more than 300 informational films in 17 languages presenting the beliefs and practices of Scientology. The Centre further provides dozens of introductory courses and seminars so that visitors can "find out for themselves."
Scientologists ascending the Bridge along L. Ron Hubbard Way advance to higher-level training and processing at the Ideal American Saint Hill Organisation (ASHO). ASHO was likewise transformed to a Model Ideal Saint Hill. It features two floors dedicated to delivering Scientology training with a capacity for hundreds of students at a time. It also doubles capacity for auditing (spiritual counselling) with two expansive Hubbard Guidance Centres. These Centres are particularly notable for delivering the famed Power Processes. ASHO's Lebanon Hall is now similarly restored and newly equipped for workshops and conventions.
Across L. Ron Hubbard Way, at the figurative top of the Ideal Pacifica Bridge, stands the new Model Ideal Advanced Organisation of Los Angeles (AOLA). It is here Scientologists embark on their journey to OT and higher states of spiritual awareness. To that end, AOLA boasts expanded course rooms for hundreds of Solo Auditors-in-training; a Solo Technical Division exclusively devoted to Solo Auditors on Advanced Courses; and three full Hubbard Guidance Centres for those traversing the upper realms with Audited New Era Dianetics for OTs.
_________________
The grand opening of the Ideal Pacifica Bridge follows in the wake of accomplishments signalling the religion's greatest period of expansion. Indeed just the last four months have seen:
A monumental release of the Golden Age of Tech Phase II, guaranteeing standard tech across both the processing and training sides of the Scientology Bridge to Clear and dramatically speeding progress up that Bridge.

SEE: Golden Age of Tech Phase II: The Scientology Bridge to Total Freedom

The opening of the magnificent Flag Building, our 21st Century Scientology Cathedral, in Clearwater, Florida.

SEE: The Majesty of Scientology: Our 21st Century Cathedral

The first Ideal Org in Asia, the Church of Scientology of Kaohsiung, Taiwan—with all auditor training materials now available, for the first time, in Chinese.

SEE: An Ideal Org at the Gateway of the Chinese-speaking World

And, just three weeks ago, the opening of a first-ever Ideal Advanced Organisation in the heart of Copenhagen, Denmark—the Ideal Advanced Organisation and Saint Hill Europe.

SEE: Dedicating Europe's Ideal Gateway to OT