KAOHSIUNG, TAIWAN
AN IDEAL ORG AT THE GATEWAY
OF THE CHINESE-SPEAKING WORLD
DECEMBER 7, 2013
It was a moment Taiwanese Scientologists had worked toward for years.
A building rising 13 stories in downtown Kaohsiung...
Measuring 108,000 square feet...
And holding not just the promise but the path to spiritual freedom.
On December 7, 2013, amidst a burst of confetti and beneath a cloud of balloons, a crowd of more than 4,000 cheered as the ribbon fell on the first Church of Scientology Organization in Taiwan and the first Ideal Org in Asia.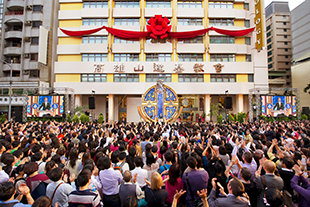 Standing at the gateway of the Chinese-speaking world, the new Kaohsiung Ideal Org is a gift to the "Beautiful Island" from members of the International Association of Scientologists in Taiwan and more than 100 nations across the world.
The inauguration of Kaohsiung Ideal Org is especially significant for the fact it immediately follows the monumental release of the Golden Age of Tech Phase II.
In preparation for grand opening, a team of 30 senior Taiwanese technical staff graduated their Golden Age of Tech Phase II training at Flag. This new breed of technical delivery team, coupled with Scientology materials never before available in Chinese, makes it possible to train auditors (spiritual counselors) in Taiwan for the first time. Until now, Taiwanese Scientologists had to travel to Church organizations abroad to become certified auditors. The Kaohsiung Ideal Org is poised to train all Scientologists as auditors, including those that man Taiwan's growing network of Scientology Missions, which currently number 16 and stretch from Tainan to Taipei.
The inauguration holds even deeper significance for the fact L. Ron Hubbard, as a young man, trekked across Asia pursuing fundamental questions on the origins of Man and the ultimate source of life. He explored remote cultures and arcane wisdom, during which he also gained entrance to forbidden Buddhist lamaseries in China's Western Hills. It was these many firsthand encounters with Eastern religious traditions which spurred his subsequent research into the human mind and spirit, and ultimately led to the founding of the Scientology religion.
Crowning the Kaohsiung grand opening was the first visit to Taiwan by Mr. David Miscavige, Chairman of the Board Religious Technology Center. Mr. Miscavige led the dedication ceremony and addressed the gathering of Scientologists: "It is truly my honor to join you on a day when so many dreams come to fruition: your enduring dream for what now looms before us; the abiding dream of all Scientologists to bring the legacy of LRH to the Chinese-speaking world; and fulfilling L. Ron Hubbard's dream of returning to Asia in spirit and giving back the wisdom he glimpsed through a long tunnel of time. All these dreams will now come to pass, for this is that day when—as in a Chinese epigram—a ribbon falls like windblown silk as we present Scientology to Asia with a first Ideal Org of Taiwan."
Founding Taiwanese Scientologist and Master of Ceremonies Dr. Oliver Hseuh, welcomed the crowd with this: "On behalf of all Scientologists of Taiwan, we give our sincerest thanks to our community friends and partners who have worked with us for so many years—in particular, to the Civil Affairs Bureau of Kaohsiung City, for their gracious support and sponsorship of our event today. With this opening, we not only extend our thanks, we extend our enduring help to all corners of Kaohsiung. Be it through human rights, drug education, morals education, criminal reform, whatever the need may be—our doors are open and our help is yours."
National and city dignitaries were also on hand to welcome the new Church. Among them, National Policy Advisor to the President of Taiwan, Liang-Chi Tan, who acknowledged the Church's years of voluntary service: "Your Church has carried a legacy of help in our land for more than two decades. As anyone would recall, when the mega 921 earthquake hit Taiwan, it was a disaster of immense magnitude. The Church of Scientology immediately dispatched volunteers to help handle the disaster. So it came as no surprise to me that you were presented by the President of Taiwan with the 'Good citizens, Good deeds' award for your work on that earthquake."
Further recognizing the significant contribution of Scientology volunteers at all levels of Taiwanese society was Dr. Cheng-Hsiung Huang of the Ministry of Interior, who said: "For years you have dedicated your time and lives to anti-drug work and human rights dissemination. And so I speak to you today on behalf of the Ministry to proclaim that the Church of Scientology has now won the national 'Excellent Religious Group Award' for 10 consecutive years."
Founder and President of the Jinghua Society Cultural Foundation, Master Ching-Yao, honored the work of Scientology Founder L. Ron Hubbard when he said: "Mr. Hubbard cared deeply about Man's destiny. We share the same goal—a better world. It must be said that this Church is built to practice all that he envisioned for Man. So you have my most heartfelt blessings that through your kindest efforts, you will make a more beautiful world and bring happiness to humankind."
In her salutatory address, Director General of Kaohsiung's Civil Affairs Bureau, Tzu-Wen Tseng, said: "On behalf of the City Mayor and the Kaohsiung City Government, I would like to express our appreciation and warm welcome to every Scientologist from Taiwan and overseas. It is our wish that the Church of Scientology's expansion empowers the City of Kaohsiung to flourish and prosper. Let us work together to create a better world."
Kaohsiung City Councilor Po-Lin Huang highlighted the Church's human rights initiative: "I am particularly proud that I have partnered with your human rights program now for over five years. I have been honored to support many of your city events all of which resulted in thousands of our citizens becoming informed of their rights. You are making a huge impact because your program is not just citywide, it is countrywide, and that means a better and brighter Taiwan for us all."
Lung-Hui Chung, Chairman of the International Foundation for the Peaceful Elimination of Opium Crops, spoke of his successful partnership with the Scientology-sponsored anti-drug program: "As a veteran of drug prevention activities in Asia, your Truth About Drugs materials have given me power and confidence. And most importantly, you have given me hope that even one person can take a giant's step with the tools provided by your Church."
_________________
The new Kaohsiung Church provides all visitors an introduction to Dianetics and Scientology, beginning with the Public Information Center. Video displays, featuring more than 500 films, present fundamental beliefs and practices, as well as the life and legacy of L. Ron Hubbard. The Information Center also offers a detailed overview of the many Church-sponsored humanitarian programs—including our worldwide human rights education initiative; an equally far-reaching drug education, prevention and rehabilitation program; a global network of literacy and learning centers; and the Scientology Volunteer Minister program, now comprising the world's largest independent relief force.
The Church's Chapel provides for every type of Scientology gathering, including Sunday Services, Weddings and Naming Ceremonies—as well as community-wide events open to members of all denominations.
The new Church houses multiple seminar and course rooms, in addition to dozens of auditing rooms.
The Church further includes permanent translation facilities in order to provide further translated Scientology materials, along with recording and editing studios for production of presentations in Chinese.